Munich is a city known for Germany's traditional Bavarian culture and the ideal starting point to plan the perfect German Road trip. It's new and spirited population have filled the old city with modern technologies and exciting new cultures. Before you drive off, spend some time getting to know one of Germany's great cities. Explore the bustling beer halls, historic buildings, and enthralling museums.
When you have had your fill of Munich's exceptional sights, why not explore the surrounding region by jumping in a rental car and going on some adventurous Munich day trips. By driving through the brilliant Bavarian countryside, you'll experience some of the German towns, villages, memorials, and castles that many travelers don't get to see when they visit Munich. You also get to explore the locations in your own time – taking as little or as long as you want.
Get planning with our Munich day trip guide as you follow Neuschwanstein Castle tours from Munich:

---
MUNICH

Start your journey in the thriving city – with its lush green city parks and regular festivals, there's always something to do in Munich. Lined with buildings that are centuries old, Munich is ideal for history buffs who love tasty beer and delicious local food. What's more, the large cosmopolitan city is also a modern mecca with a world-famous nightlife and plenty of modern art galleries to explore, as well as a connection to its surrounding Alpine landscape. Try to visit the city around its most famous festival, Oktoberfest, the beer-toasting super festival that consumes that city and fills it with fun and games! (Honestly, everyday is Oktoberfest in Munich – head to Marienplatz in the centre of Munich and grab a beer or 2 and a sausage).
DACHAU CONCENTRATION CAMP MEMORIAL SITE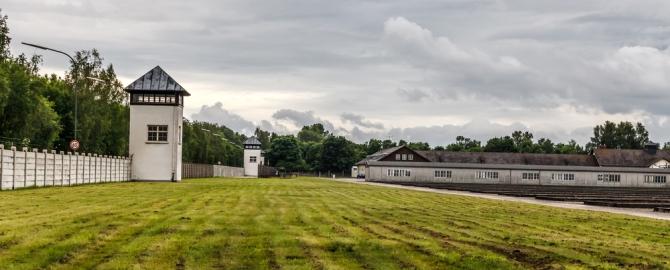 The concentration camp at Dachau was Nazi Germany's first ever concentration camp. The prison held over 200,000 people during its 12 years, but since 1965 the site has been a memorial to the devastation of that era and the lives that were lost. Dachau is located close to the city and 30-minute long or two-and-a-half-hour long walking tours are available as well as audio guides. (It's not an easy tour but well worthwhile).
LANDSHUT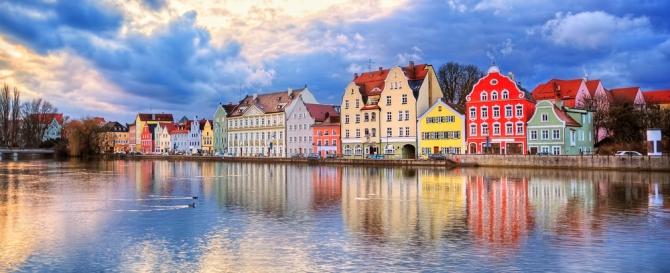 The picture-perfect town of Landshut is bright and beautiful – with stunning multi-colored houses and a very famous castle. It hosts the Royal Wedding Festival every four years to celebrate the companionship of Bavaria and Poland. Discover the town's differing architecture, from the Middle Ages to Renaissance-Baroque. There are Bavarian beer halls, delicious local restaurants, and Trauznitz Castle, which dates back to 1204.
HERRENCHIEMSEE NEW PALACE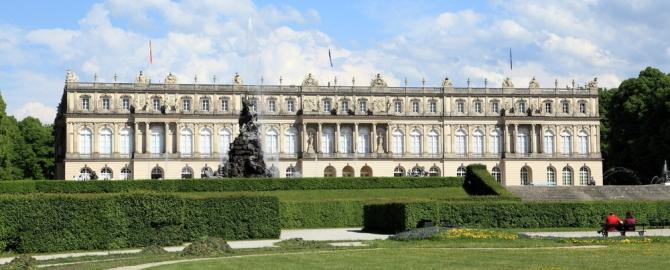 This impressive palace was the incredible vision of King Ludwig – precisely his idea to build an exact replica of Versailles Palace in Paris. The stunning complex of royal buildings is located on an island in the region's large lake – the Chiemsee. Explore the majestic interior of this fairytale palace, which features marquetry floors, carved panels, stucco marble, and ceiling frescoes. (King Ludwig is also responsible for the ultra famous Neuschwanstein Castle- below).
WENDELSTEIN MOUNTAIN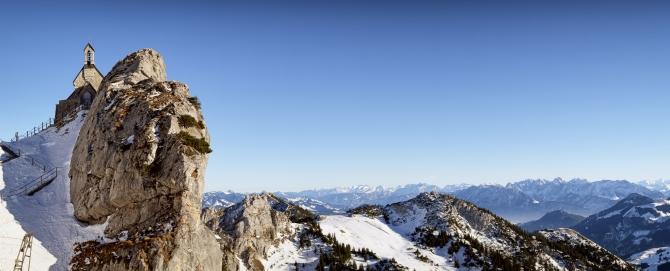 Wendelstein Mountain is probably one of the easiest access points for exploring the Alps in Bavaria. Drive to the base of the mountain, before taking the cable car or train to reach the 6,000-foot summit. Revel in the spectacular Alpine views from the top, where you can also enjoy a warming coffee or hot chocolate in a delightful cabin restaurant or cafe. If you are more of an adventurer take the hiking trails to the top – although you might want to allow more time for this option.
LANDSBERG AM LECH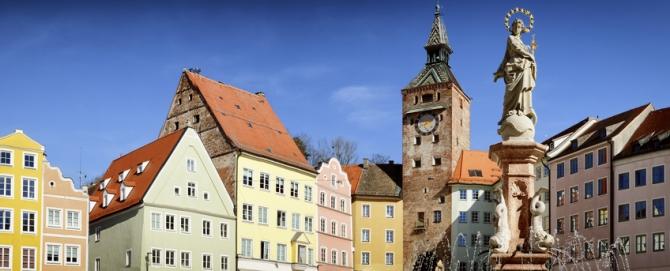 Just half-an-hour from Munich, Landsberg am Lech is yet another shining example of a stunning and traditional Bavarian city. On a first glance Landsberg am Lech looks as though it hasn't changed at all since its creation, with buildings dating back to the Medieval period – including the impressive Mother's Tower and the Schmalzturm Tower. Visitors can trace the ancient lines of the city by walking the old city walls or learning more about its intriguing history at the Herkomer Museum.
NEUSCHWANSTEIN CASTLE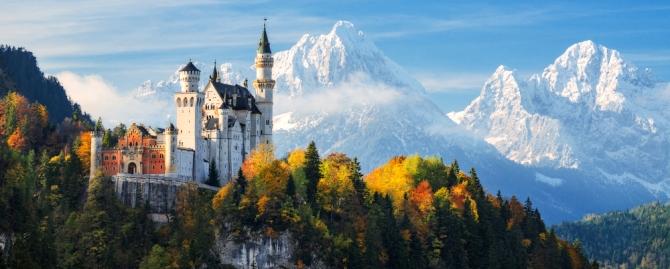 The absolutely mesmerizing Neuschwanstein Castle is the moment that those fairytale dreams truly become a reality. The breathtaking 19th century palace is something to behold – and is known for being the real life inspiration for Disney's fairytale classic "Sleeping Beauty". Originally built for Ludwig II of Bavaria, the castle has been open to visitors since his death and offers its guests unique views across the Bavarian landscape. Be sure to spend some time exploring the beautifully landscaped gardens here, too. (Allow most of a day for your visit. The parking lot is busy and a 10 minute walk from the base of the mountain. You can walk up to the castle (minimum 30 minutes) or pay to ride in a horse drawn wagon. You'll also wait and pay an admission to get inside the castle).
Travel Freely and At Your Own Pace
When you are looking to experience the best Germany has to offer, you'll need a reliable means of transportation. Book an affordable car rental in Munich and you'll have access to endless touristic opportunities and sites! Compare rates, shop names you recognize and find the best deal. Save time and money with my link to Auto Europe.