Hong Kong is one of the world's great destinations and particularly well known for its food. You'll visit new and exotic places and indulge in everything it has to offer. You'll experience a different culture; visit historic monuments; see nature; and of course, try local cuisine. If you're visiting Hong Kong, you'll want to try dim sum. There are of course many places where you can find dim sum and other Chinese food in Hong Kong. If you feel more like an America-inspired meal, here's 5 American inspired restaurants where you must go.
1. Butchers Club Burger
If you crave real burgers, don't go to Burger King or McDonald's on this trip. Try a Butchers Club Burger. Here, you'll find authentic and delicious American burgers – arguably the very best burger that you can find in Hong Kong! Even though it seems very simple, making the perfect American burger is a tricky process. This restaurant has been Michelin-listed since 2016 and is one of only two burger joints with a Michelin listing in Hong Kong.
2. Big Sur
If you want to inject a dose of California into your Hong Kong restaurant experience, Big Sur is the perfect restaurant for you. You can choose from contemporary barbeque cuisine including ribs to healthy salads and tacos, and even delicious seafood dishes. Big Sur also has a perfect bar as well, where you can drink cocktails and craft beer. It's an oasis in the sea of Hong Kong street restaurants. Check it out and take a break from HK food, and go to this California inspired spot for at least one meal. They are open from noon on weekdays so a perfect place for lunch; on weekends and holidays, you can opt for a brunch at 10 am.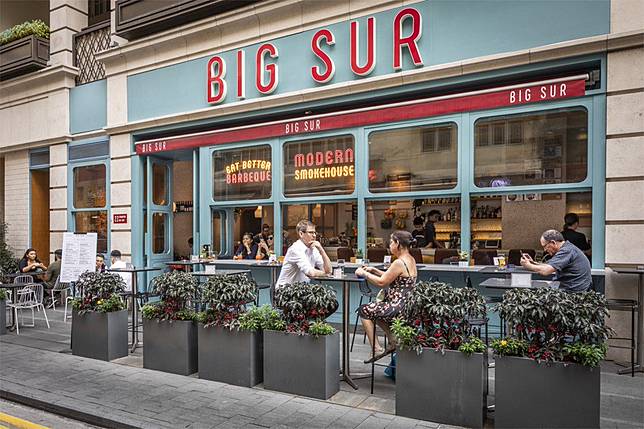 3. Beef and Liberty
Another place for great burgers, or other American-inspired dishes, is the Beef and Liberty. This is the second burger restaurant in Hong Kong (after Butchers Club Burger) to be Michelin-recommended. The magnificent burgers here are made from hormone-free grass-fed beef. The Beef and Liberty is also well known for delicious chicken wings and offers other American dishes to suit different tastes. Desserts include a warm skillet cookie and cream, which is basically a huge cookie filled with chunks of great chocolate, and with cream on top!
4. BLT Steak
This restaurant is from the chain of BLT Steak restaurants in America, and is medium priced compared to other restaurants in Hong Kong. Apart from the delicious steaks and lunch buffet, the best thing about this restaurant is the fantastic view. It's located just a couple hundred of meters from the pier and overlooks the water. The restaurant is spotless, and the service is impeccable. The lunch buffet is available from 12 and 3 pm on weekdays. On weekends from 12 to 4 pm, there is a great brunch buffet with all-you-can-eat roast beef and lamb, and a large selection of salads.
5. Grassroots Pantry
If you are a vegan or you require (or want) gluten-free meals, then this is the place for you. Grassroots Pantry is extremely authentic. By far the favorite thing of everyone who steps inside this restaurant are the hand-drawn menus which look fantastic. If you're vegan, there's nothing you won't like; and each dish is a generous portion. You can choose vegan pancakes or salads for a starter, then move onto the delicious potato tofu croquettes, and finish off with caramelized apples or coconut brown rice pudding.
People think that New York City is hectic, and it is. But you should visit Hong Kong – as one minute in New York is one second here. You can find literally anything to eat here. But eat smart! You can't go wrong by choosing one of these five excellent Hong Kong restaurants!